So yesterday, Rushka and I grabbed some copies of Shebang and donned our coats and scarves, ready to brace the chill of London town (we only had snow in Brighton for one day before it all pretty much melted away and warmed up, so knew that the snow-covered Capital was going to be pretty icy!)
After a quick visit to M&S to stock up on some overpriced by very nice snacks and drinks, we left Brighton in search of Ladyfest Goldsmiths - the first Ladyfest event we've ever been able to make (living on a budget in Cornwall for the past three years meant that trips like this were out of the question!).
The journey took much longer than the usual 50 mins, thanks to the recent snowfall, but we got there eventually!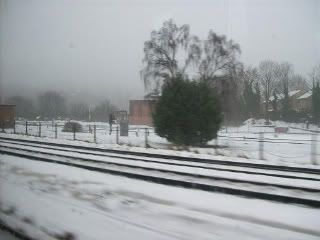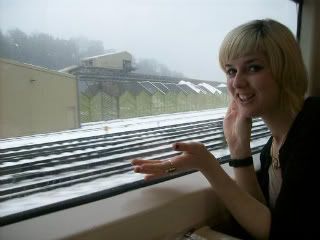 (Please excuse my rather toothy snow excitement!)
Arriving at Victoria, we got our tube passes and headed to the underground, only to find that our route was under construction, meaning over an hours worth of tube connections and a swoopy bus journey.
BUT WE MADE IT!
We followed the trail of the beautifully designed Ladyfest posters...
... and eventually found ourselves in the Student's Union, which was lined with stalls, a knitting area, and performance area. We got a bit carried away with it all and forgot to take many photos until the end of the day, but here's a rough idea of the layout: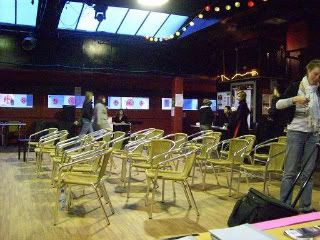 Every stall was different; one sold slices of homemade cake (the chocolate cake was recommended, and was delicious!)...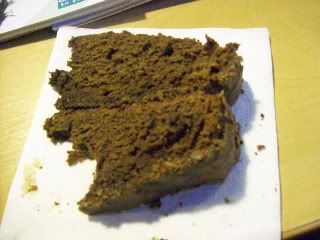 ... another was covered in the cutest knitted goods, from knitted bows to knitted fruit & veg...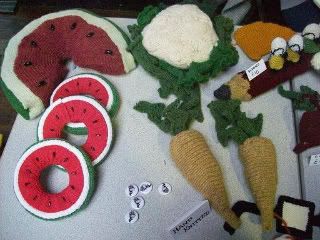 ... and others were raising awareness of women's charities and organisations, including a Breast Cancer stall with complimentary ginger biscuits, decorated with pink bows of icing, and the Fawcett Society. The Ladyfest stall gave out free badges and an official zine, made especially for the event: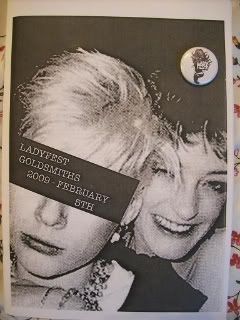 Inside: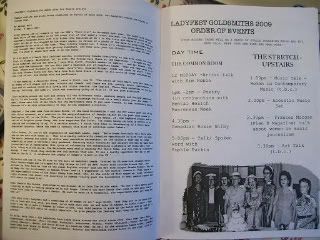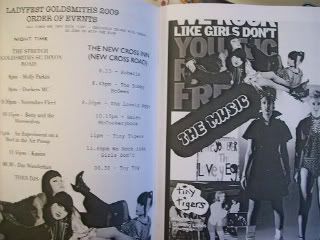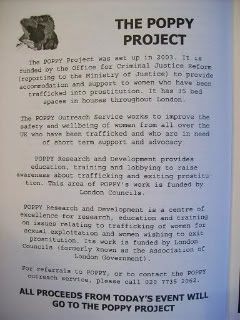 Throughout the day there were musical performances...
...and talks; my favourite being a talk/discussion given by Frances Morgan from our favourite big-name music mag,
Plan B magazine
, focusing on the role of women in music journalism, and how to go about getting things on a more even level for both genders, whether they are musicians, writers or readers.
Towards the end of the day, we took over duties at the zine stall, and had chats with fellow zinesters, including the wonderful ladies at one of our favourite zines (now a blog),
Uplift!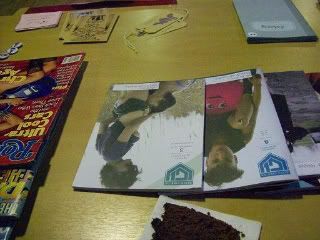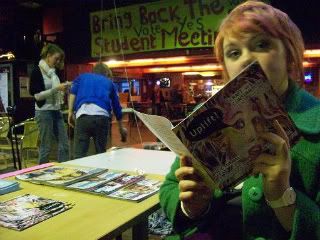 We weren't able to make it to see any of the bands in the evening as we had to get back to Brighton, but all in all it was a great day, and the organisers did a wonderful job. A really inspiring event!
If anyone went along to the evening part & fancies writing up a little report that we can add on here, please get in touch.