We're excited to share the news that we've been given a space at the Alternative Press Fair II, which takes place on the 2nd August '09 at St. Aloysius Social Centre in London.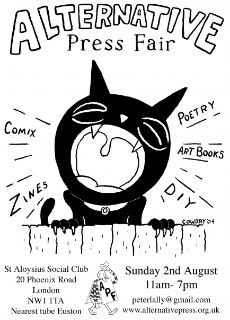 The fair will be the final day in what's set to be a HUGE zine event, spanning 5 days, and including:
- The "Publish You" book launch, which includes submissions from tons of small press folks & zinesters, and also aims to act as a manifesto and discussion of the contemporary small press scene.
- Are You Zine Friendly? A chance for all those involved in small press to meet up and trade and sell their wares, along with music and general fun times. Even those who are zine-less are welcome to join in the celebrations and to hopefully go home with a goody bag of zine swag!
- Spoken Word Night Out! Taking a step away from the printed page, this night will see poetry, zine readings, story-telling and other performances from artists working in print media.
- Collaborama! A jam-packed BEAST of a zine event, Collaborama is a combination of zine, comix and small press stalls, a bbq, film screenings, workshops, performances and talks, and the chance for people to come together to create a collaborative zine for the day.
And to top it all off, Sunday will be the second Alternative Press Fair, a chilled-out day of perusing stalls selling comix, zines, poetry, radical literature and arts; a great ending to what's set to be a fantastic event! For more info on events, visit the
Alternative Press Site
and keep checking the
Alt. Press Blog
for the latest updates.
Hope to see you there!