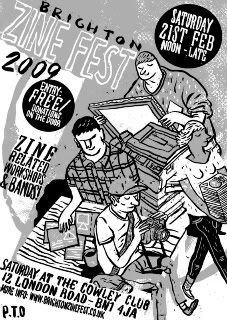 21st-22nd February 2009.
It's now less than 2 weeks until Brighton turns into a mecca of UK zine culture. For one whole weekend, zine-related events will be spread throughout the city; from zinesters selling their wares and live music, to a whole heap of workshops (inc. vegan cookery and papercraft) and a talk on sexism in activist spaces. It's all go, and all inclusive.
We'll be at the zine fair on the Sunday at West Hill Hall, selling the first ever copies of Shebang Issue #2 (fresh off the press!), along with Issue #1, badges, cakes and more! Please drop by and say hello!
Brighton Zine Fest Official Website
And thanks to some excellent timing,
Jeffrey Lewis
(one of our favourite musicians ever - featured in Issue#2) is also playing at the Komedia on the Sunday evening. So why not make a day of it & pick up a copy of his comic Fuff to add to yr zine collection? Tickets
here