Issue#2 has finally arrived! The first copies saw the light of day at the Brighton Zine Fest over the weekend (a MASSIVE thanks to everyone who came along, we had a great time!), and now pretty much all of our stockists are topped up with the new issue (as well as still selling Issue#1).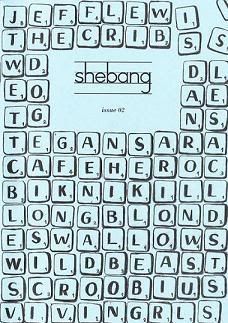 a5, 52 pages, light blue paper, limited run of 400

Contents includes interviews with The Cribs, Tegan & Sara, Dan Le Sac & Scroobius Pip, Vivian Girls, Wild Beasts, Pens, Swallows & our crafty fave Bonbi Forest; a travel guide to Portland, Oregon; Kate Morris artist profile; Mixtape recommendations from Jeffrey Lewis, Los Campesinos!, Girls, Camera Obscura, Emmy The Great & more; Features on Cafe Hero and We Heart Arts; live reviews of Das Wanderlust, Jeffrey Lewis & The Wave Pictures, Twee As Fuck & the Shred Yr Face tour; record reviews and lots more! We'll put up the whole content list on our website soon.

Buy it directly from us at our online shop. Will post worldwide, and can do a deal if you want both isues - e-mail us at mail@shebang-mag.co.uk.